Rev. Dr. Pat Bailey is a native of Atlanta, Georgia, and has been an ordained minister in the Presbyterian Church (USA) since 1987. He has done advanced academic work in comparative religion, spiritual direction, and spirituality and nature and has served as a localpastor and as a chaplain in the U.S. Army.
Pat, his wife and partner, Debbie, and their two children have lived in Madrid, Spain; Seoul, Korea; Mannheim, Germany; Georgia, Alabama, Kentucky, California, and Alaska. Their son is now an airline pilot on the East Coast, and their daughter has a degree in physics and lives and works in Halifax, Nova Scotia.
Degrees that Pat has earned include a BA in religious studies from Lee College, a Master of Divinity from Columbia Theological Seminary, a Master of Theology in comparative religion from Emory University, a diploma in the art of spritual direction and a Doctor of Ministry from San Francisco Theological Seminary.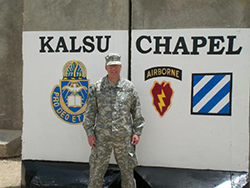 From 1987 to 1992, Pat served as pastor of a congregation in an urban suburb of Atlanta. Beginning in 1992, he served as a chaplain in the U.S. Army, retiring in late 2008. From 2002 to 2005 Pat taught world religions at the Defense Language Institute and from 2005 to 2008 he served as the brigade chaplain for an airborne brigade combat team, including fourteen months deployed to Iraq. Pat returned to local church ministry as the Pastor of Christ Presbyterian Church in Telluride, Colorado in October 2008. His primary professional interests are interfaith spirituality, evolutionary consciousness, nature spirituality, and accompanying others in spiritual community.