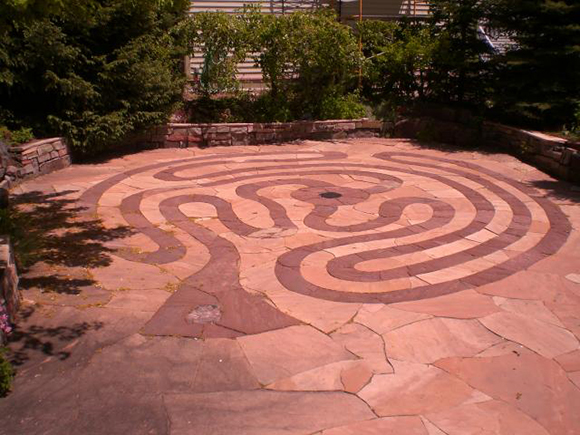 Our Gardens and Labyrinth are a special place of welcome to our community and anyone who is seeking a place to reflect, pray, and contemplate.
The courtyard area has seating areas made of large local and regional rocks that correspond to four directions with particularly nice and significant views, southeast, southwest, northeast, and northwest. The beautiful gardens are lovingly maintained each year by members of our church, and through the back gateway you will find a beautiful open area and a terraced rose garden.
At the center of the courtyard is a free form labyrinth. The overall shape is that of a tree. At the entrance of the labyrinth is a piece of petrified wood that reminds one of creation, the beginning or our life and of our spiritual journey. At the center of the labyrinth is a round slice of black marble where one can see their reflection, a reminder of the center of our own being.
You can download the guide to the labyrinth below and use it to help enhance your experience.