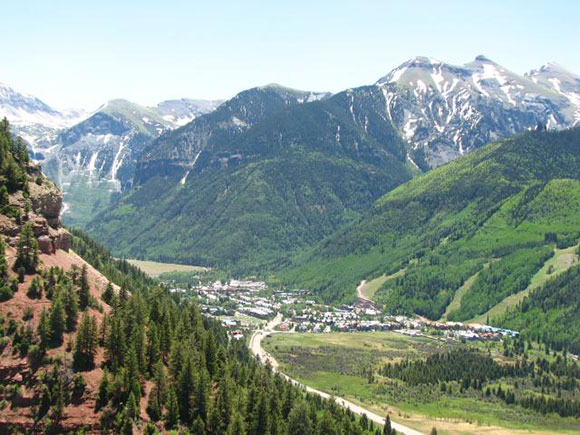 At an elevation of 8,745 feet, Telluride is an authentic Victorian town nestled in a majestic valley, surrounded by 12,000 to 14,000-foot Rocky Mountain peaks. Located in the San Juan Mountains of southwestern Colorado, Telluride is 335 miles southwest of Denver, less than 100 miles from the four corners area, where Arizona, New Mexico, Utah, and Colorado meet, and within a six-hour drive of Santa Fe, the Grand Canyon, and Utah's Zion, Bryce, and Arches National Parks. The Town of Telluride covers only .7 square miles of land, but the entire San Miguel County encompasses 1,287 square miles of sheer beauty.
The first prospectors settled into this box canyon in the 1870s, and by 1887 the name Telluride was adopted; perhaps after tellurium, a nonmetallic element often found in mineral deposits with gold and silver. Other stories suggest the name came from the phrase, "To hell you ride!," reflecting the rambunctious character of this mining boomtown, with its abundant gaming parlors and infamous brothels. A local journalist summed up Telluride in 1887 this way: "Ouray has four churches and 14 saloons. Telluride has 10 saloons and plans for a church!"
By 1890, Telluride was no longer seen as just a mining camp. It had grown into a popular international town, with new residents coming from such diverse origins as Italy, Austria, Ireland, and Finland. The population rose to a steady 3,000 residents, and most tiny wooden mining shacks gave way to elaborate Victorian mansions built throughout this picturesque little town. The wealth of Telluride attracted the likes of Butch Cassidy and his "Wild Bunch," who made their first brazen bank withdrawal in 1889. In the early 1900s, however, the boomtown had lost its luster, thanks to diminished mining profits and crippling strikes against the industry. By 1930, the population fell to only 512 loyal residents.
While the old-time miners despised snow, its abundance helped put Telluride back on the map. On December 22, 1972, the Telluride ski area officially opened and vacationers looking for a rugged, natural experience, and great skiing once again knew Telluride. Today, the Town of Telluride is one of only 15 National Historic Landmark Districts in Colorado, the highest designation awarded by the National Park Service.
Telluride beauty is undeniable. Its breadth and depth of cultural, physical and emotional activities are also undeniable. Upon reaching the entrance to Telluride, a visitor realizes they have arrived in a very special place that will not soon be forgotten.